First known as "Simson's Diggings", Maryborough's gold rush began along Four Mile Creek in the winter of 1854. The area quickly gained its reputation as a rich and profitable field, with reports of magnificent gold nuggets being discovered in abundance! Thousands of people soon flocked to the area to try their luck, however they were faced with a great challenge – water was extremely scarce, and had to be carted 4 miles to the diggings (at a price, of course).
"A nugget of pure gold has been found at the Maryborough diggings weighing upwards of 480 ounces, and the reports of the general average resturns from these diggings mark a new era of revival and fresh riches in the mines of Victoria. These new diggings are on the run of Mr. H.N. Simson, lying between Tarrengower and the Avoca, and already they have attracted an immense population." – Mount Alexander Mail, 9th September 1854
This page provides a directory of historical gold maps for Maryborough, Victoria. All these maps are available to view online for free.
Maryborough historical gold maps
Purchase high quality A1 print of the Maryborough Goldfield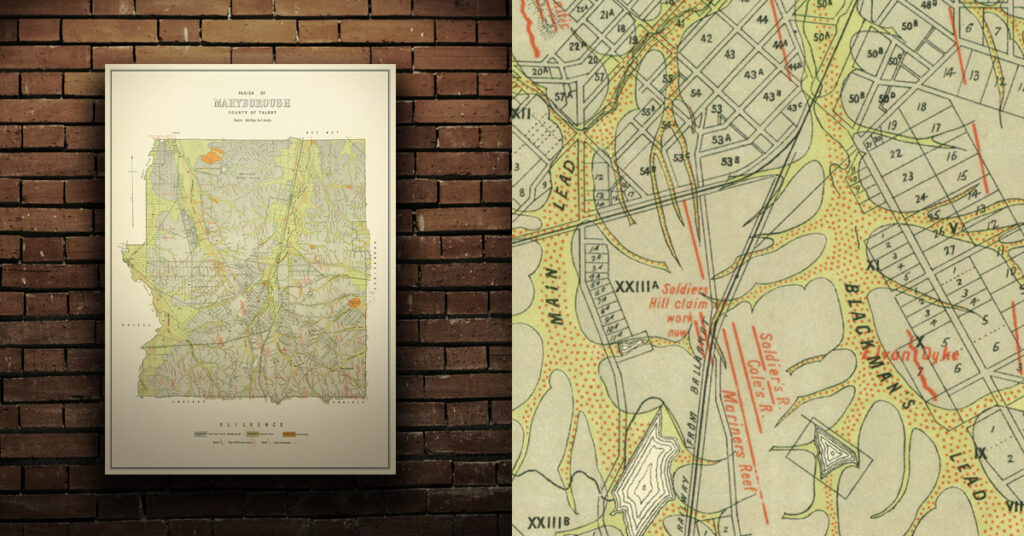 Shop now – High quality A1 print – Historical map of the Maryborough Goldfield
Interesting reading