Historical gold maps of the Australian and American Goldfields
Historical maps can provide valuable insights into the geological features and gold mining operations of the past. This can help modern day prospectors determine the best places to look for gold!

We provide a directory of links to historical maps for various states, towns and regions throughout the Australian and American goldfields. This  makes it easier to find historical goldfields maps for specific regions without having to sort through a large number of other maps (town allotment, roads, aerial survey, etc) in the State and National Library catalogues.
All these maps are available to view online for free. They have been selected because they display useful information regarding the location of reefs, leads, diggings, mining operations, and geological features.
"It is now beyond all doubt that Australia is a gold country. At this very moment, whilst emigrant ships are filling up in our port for California, there is a number of our colonists actually digging successfully for the yellow ore within one hundred and forty miles of Sydney. 'Cradles' are being made, and 'diggings' are spoken of, in some circles already, with an interest so settled as to be almost common-place" – Empire (Sydney), 7th May 1851
We currently show historical gold maps for Victoria, New South Wales, Western Australia and Queensland.
Shop high quality prints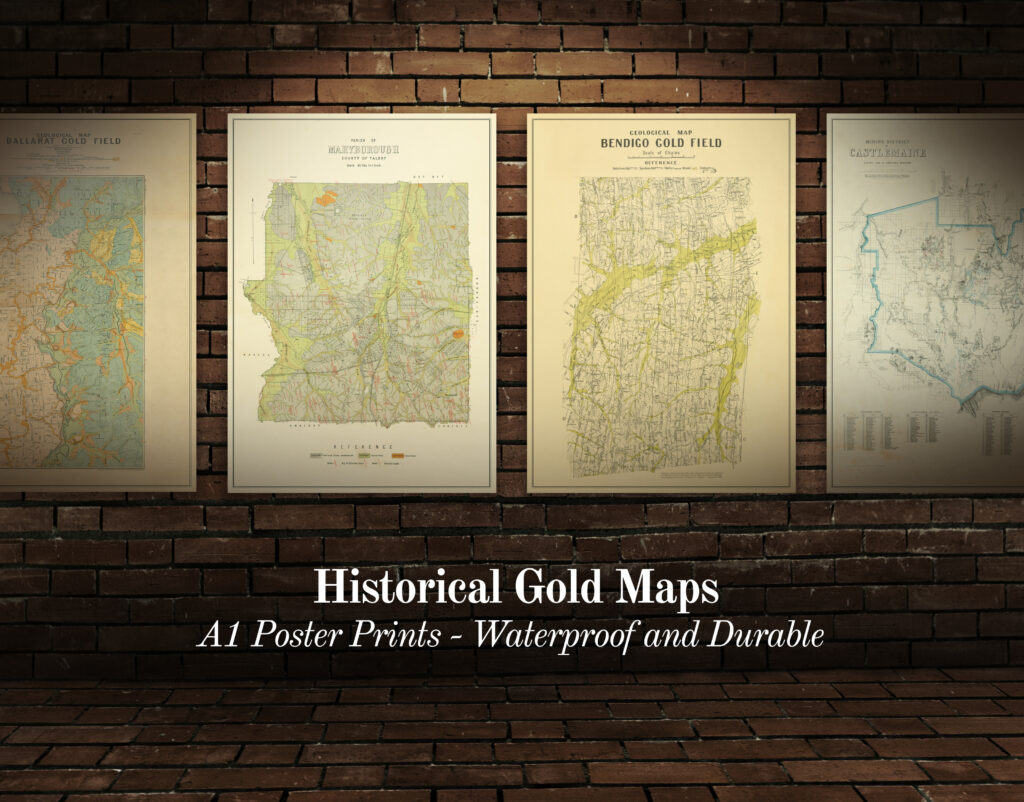 Shop our collection of historical goldfields maps, which show fascinating historical features in superb detail. High quality, durable A1 poster prints in a satin finish. Order yours today!
Updates and information
We regularly add new towns/regions to this directory of free online gold maps. You can follow the Historical Gold Maps Facebook page for updates.
Always check the land access rules of the area where you are planning on gold detecting, panning or sluicing.