Not long after the exciting discoveries at
Clunes
and Buninyong, gold was discovered on Yuille's Ballarat Station in August of 1851. John Dunlop and James Regan discovered gold at
Poverty Point
between the 20th and 24th of August, followed closely by Tom Brown's discovery less than a mile away at Golden Point.
"Tradition has it that a man named Morrow, a carpenter at Geelong, was the only one who could give information as to where gold was likely to be found. His advice was very simple. He said 'Wherever you find round gravel pebbles try for gold;' and it was acting on that hint that the rapid succession of gold discoveries were made which had led the building up of Ballarat, and have had such an important effect upon the development of Victoria." –

The Ballarat Star, 28th August 1896

.
This page provides a directory of historical gold maps for Ballarat, Victoria. All these maps are available to view online for free.
Ballarat historical gold maps
Purchase high quality A1 print of the Ballarat Goldfield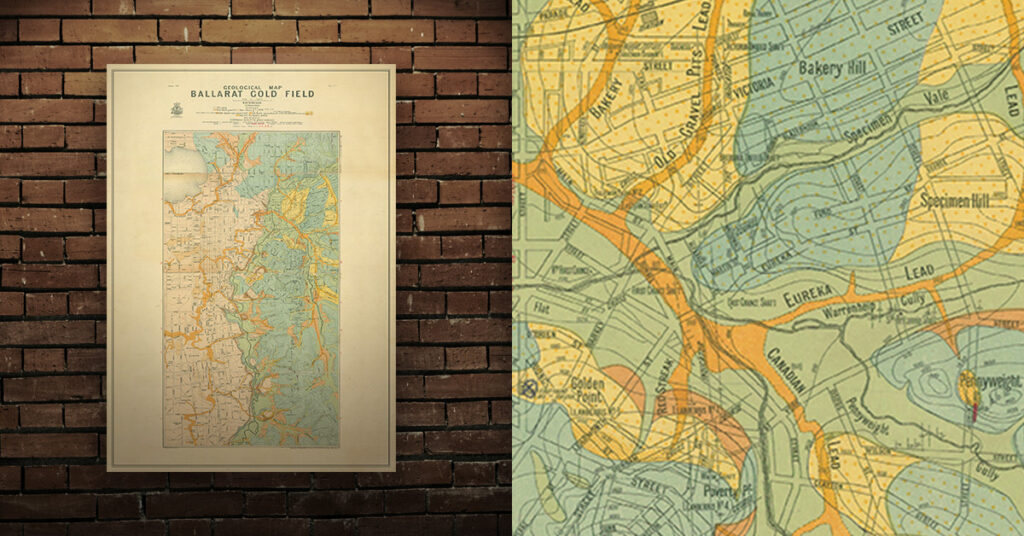 Shop now – High quality A1 print – Historical map of the Ballarat Goldfield